For schools and youth organizations             For families and children      For adults and lifelong learners
Pricing and booking information
Dudley Observatory offers a variety of astronomy education programs for people of all ages.
Check out our events page for a calendar of public programs, and see below for all program offerings.
For schools, libraries and youth organizations
Children's first questions about science are often about objects they notice in the night sky. It's precisely this kind of self-generated curiosity we want to nurture in our students at all stages of their STEM education. Through hands-on lessons that meet NY state science standards, NGSS and are common core aligned, we hope to inspire the next generation of STEM leaders.
Are you curious about what stars, constellations and planets are visible in the sky tonight? Book a virtual night sky tour with us today to find out!  Each interactive 45 min session will include a tour of the constellations in the night sky and how to find them, information about star clusters, nebula, and other objects visible that evening, and Q&A time with our Astronomer. Click here for more details.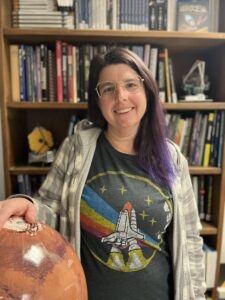 Do your students have tough astronomy questions that you don't have the background knowledge to answer? Would you like your students to have the opportunity to chat with a professional astronomer? We've got you covered! Dudley at Siena offers  Ask the Astronomer sessions. In these 45min Q&A sessions, Dr. Mindy Townsend will happily answer any questions about the solar system, stars, galaxies, black holes, aliens, or whatever your students think of. Sessions can be conducted in person or via Skype and are available for any grade K-12.
Unleash your inner G.I.R.L. and reach for the stars! The Dudley Observatory has specifically designed for getting your space science badge! Programs are currently available for Daisy, Brownie and Juniors and are offered periodically throughout the year.
Starlab, a partnership with Capital Region BOCES, is an inflatable portable planetarium that allows students to learn about the night sky in a unique and interactive way. Programs available soon for grades K-12.  BOCES aid for this program is available through Educational Support Services.
The Dudley Observatory offers 45 minute hands-on classes that cover different fields of astronomy. These classes can be booked as outreaches. Our current offerings are:
Meteorite Meteor-Wrong (3rd-8th grade)
Learn about meteorites and how they help astronomers study the formation and interiors of the planets in our solar system. Students will explore different rock samples to determine which are real meteorite samples and which are rocks from Earth.
For families and children
Join us for an astronomy lesson and dark sky observing at the Octagon Barn in Delanson, NY! Programs include a 1 hour talk by local astronomy enthusiasts, followed by a star party if the weather is clear. If you want to see the Milky Way this is the place to be! Star parties resume in September and are held monthly on a Friday night from April-November and are great for teens and adults.
Dudley at Siena is now hosting summer camps at Siena College. In 2023, we are offering camps for 6-8th grade students.  In Art of Astronomy, students can flex their creative muscles while learning about astronomy! This camp allows students to explore a variety of astronomical concepts through different forms of art. Students will develop their own constellation lore, create their own galaxies, learn how to build pinhole cameras, and much more! No advanced artistic skills or astronomy knowledge required. Register your child today!
For adults and adult-serving organizations
Dudley Observatory is committed to lifelong learning and we have created programming specifically designed for adults! Our Cosmic Adventures lecture series (formerly Senior Science) is an exciting one hour astronomy lesson presented by the Dudley astronomer. Presentations are designed for all skill levels. No astronomy knowledge is necessary, just come and enjoy learning. Programs can be held onsite at your organization or can be hosted remotely via Zoom or alternate streamable link as well.
Pricing
Octagon Barn: Free ($5 donation graciously accepted).
Outreach programs (Cosmic Adventures, Ask the Astronomer, hands on classes):
$150 per hour.
Starlab: $600 for up to 4 programs. See Starlab page for more information.
Scouts: $25 per scout (minimum 6 scouts and maximum 20 scouts per program), 1 chaperone (18+) per 10 scouts included for free.
Reservations
Programs can be booked by filling out a reservation form and emailing it to info@DudleyObservatory.org. A representative will reach out to you to finalize your program booking. All bookings are based on the availability of staff and are made on a first come first serve basis.
PLEASE NOTE: Each outreach program (including consecutive occurrences of the same program) requires set up time. Times listed in program descriptions are for program length only and do not include set up time.